2 Small Chicken Coops - Unbeatable Value For Money

Angelina Carter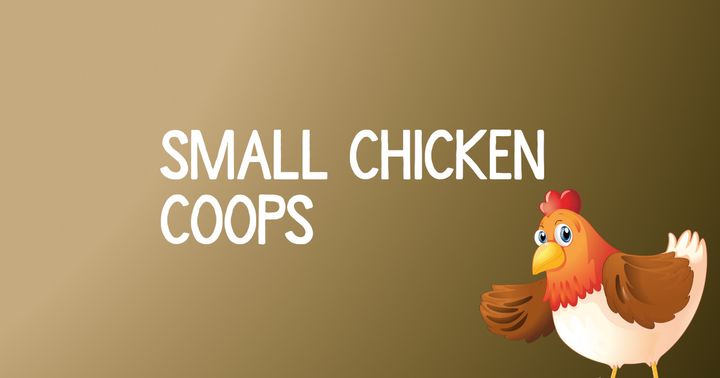 2 Small Chicken Coops for Up to 4 Chickens
When you're starting out your urban farm, you might want to begin with a small flock of 3-4 hens. Managing a small group is a lot easier and will save space in your backyard as well since you wouldn't need to get a large coop.
Planning is always key when dealing with farming, and with hens you need to take into consideration a lot of factors. It's not just looking at the aesthetics of the coop. You need to weigh up its functionality as a whole. Buying or making a coop for a small flock does not need to be expensive, as long as you have the following, you are good to go:
Good ventilation.
Nesting boxes.
Perches or roosting rods.
Adequate space for sleeping and exercising.
In choosing a size, the rule of thumb is to allot 2 to 3 square feet per hen inside the chicken house. The run however needs to be at least 8 to 10 square feet per hen. You can opt to have a larger coop, after all you can never go wrong by having more space for your flock.
On the topic of choosing a living space for chickens, here are some coops it would be good to consider. They are ideal for small flocks and have the basic necessities you would need.
Petsfit Weatherproof Outdoor Chicken Coop
Small chicken coops that give that 'barn style's look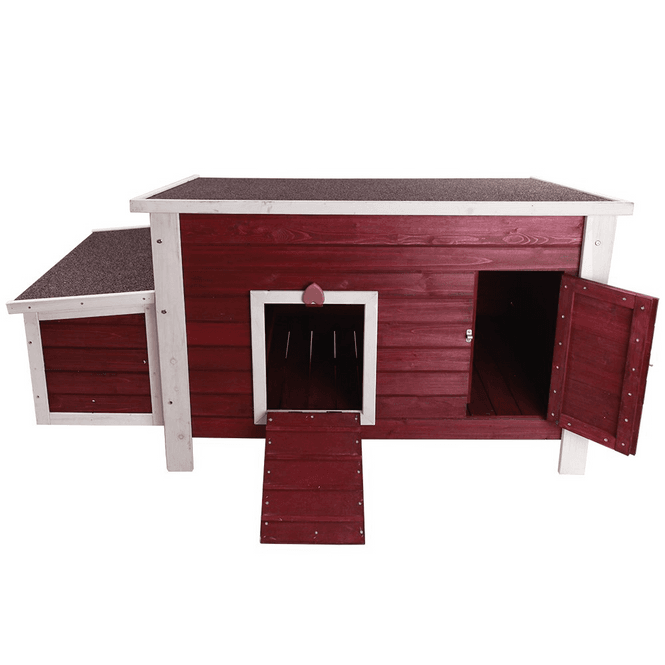 This coop is ideal for 3 to 4 chickens. It includes one large nesting box on the side that is easily accessible through the top lid. All you need to do is lift the hatch and you have instant access to fresh eggs. The design of this coop is quite different. It's very low to the ground and comes in a vibrant color that resembles a classic barn. Lots of Amazon chicken coop kits come with full assembly instructions but few are as easy to put together as this one, just read the reviews and you'll understand what I'm talking about.
You need to assemble this coop by yourself, but it is pretty simple with building instructions, labelled parts, and pre-drilled holes. It is made with rain-proof fir wood that guarantees durability. If you are a bit skeptical, you can always double coat your coop with a sealant. There is good ventilation since there are gaps between the floorboards and walls. The only consideration with these type of small chicken coops is that you have to purchase the run separately or place it in an enclosed space for your chickens to be able to roam without having to worry about predators.
Overall, this particular small chicken coop is one of the best chicken coop kits Amazon sells, is the perfect example of good quality at an affordable cost. Definitely, something we can recommend.
The Zoovilla Country Style Chicken Coop
Small chicken coops that come with run included...
Stylish and equally functional -- that's how you can best describe this Zoovilla Coop. It is compact and great for starter farms with a small flock. Ideally it can hold up to 6 hens, even though it may be sold as a small chicken coop for 2 hens, but like we mentioned before, bigger space is good even for a small flock.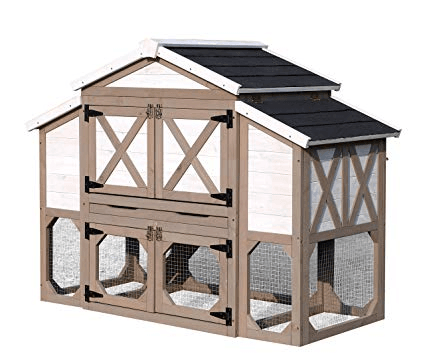 This coop comes with two large nesting boxes, a ramp, and an enclosed run at the bottom of the hen house. Talk about efficient use of space. The nesting boxes are easily accessible through hinged roofing. The wood is already painted and treated, so there is no need to fuss over additional sealants. It is also a lot easier to clean thanks to the pull-out trays and door access.
The run is low, which means you need to take into consideration the height of the chickens you plan to keep. It is best to keep small to medium-sized hens in this coop.
Price-wise, this coop definitely lives up to its value. It has everything a large chicken coop has but with the added bonus of being stylish and space-efficient.
With tons of small chicken coops available in the market today, it can be quite hard to decide which ones would be best for your hens. They come in different sizes, materials, and designs but not all of them will be good for your flock. Make your list and check out the pros and cons before deciding which to buy. At the end of the day, what matters is that your flock is happy.
---