4 Strong Large Chicken Coops To Buy Today

Angelina Carter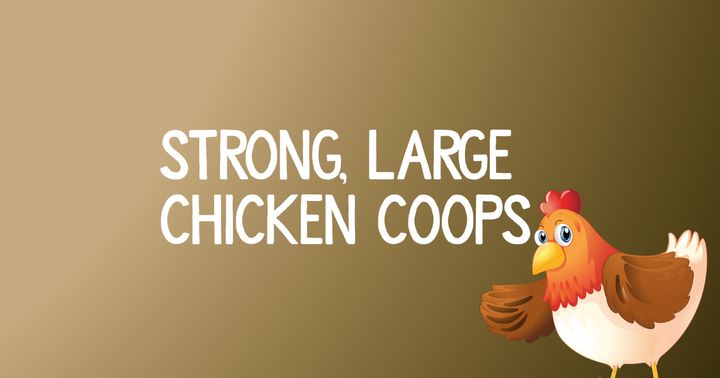 When you think of starting your own little farm, you need to start from the basics; planning. Whether large chicken coops or small, it's best to know what you want to get out of it at the end of the day. Do you want an abundance of produce? Are you looking into starting a business with honey and other bee products? Or would you just like to be able to collect fresh eggs every morning? Whatever you do choose, planning is always essential.
Money can't buy happiness but it can buy you a good coop for your chickens, and that's kind of the same thing

-- Anonymous
If you decide to raise a flock of laying hens, you need to consider a couple of things:
The space you can allot.
The number of hens you want.
The coop you need for your flock.
The necessary accessories for the coop.
The feed and daily maintenance.
Based on the first three points we have gathered the top 4 Large Chicken Coops you can easily purchase online, and assemble in no time!
Imperial Arlington Chicken Coop
Large chicken coops with extra predator protection
Size: 8ft 2in (l) x 2ft 5in (w) x 3ft 3in (h)\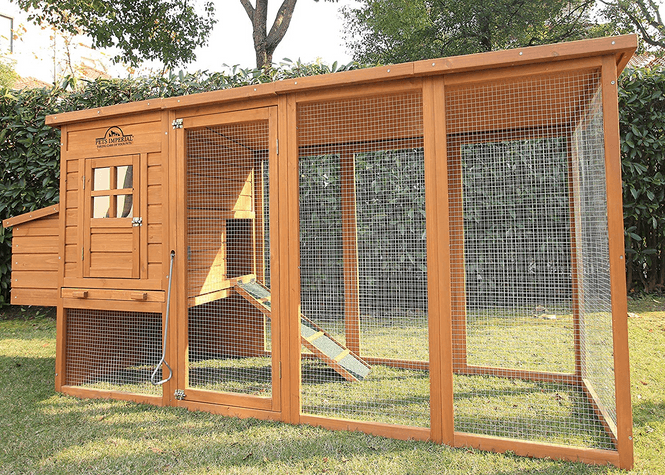 Provide your flock with a safe and very secure living space with the Imperial Arlington Chicken Coop. This coop is equipped with a long run, asphalt roofing, roosting bars and nesting boxes. Though this is not a walk in chicken coop, it is very accessible and easy to clean thanks to several openings and hatches. It is made with animal-safe treated wood and coated mesh wiring to keep predators out.
Coops & Feathers Chicken Coop
Large chicken coops with the red Barn look and feel
Size: 6.3ft (l) x 4.2ft (w) x 4.2ft (h)\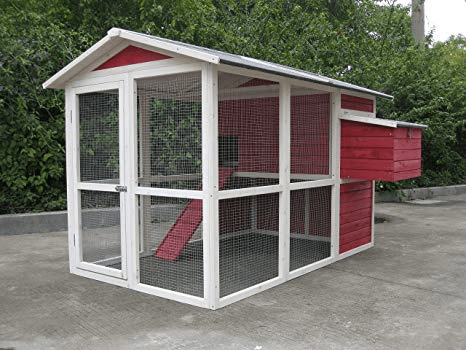 The Coops & Feathers coop is designed to serve both aesthetic and function. It's red barn design will surely give your backyard that classic farm feel. This coop is equipped with a nesting box, roosting bars, ramp, and even a pull out tray for easy cleaning. The large running space allows your flock to roam within the confines of the coop, ensuring their safety at all times. These large chicken coops are able to hold 3 to 5 full-sized chickens comfortably -- definitely great for beginners!
PawHut Chicken Coop
Treated wood painted fir green
**\ **Size: 5.6ft (l) x 2.2ft (w) x 3.3ft (h)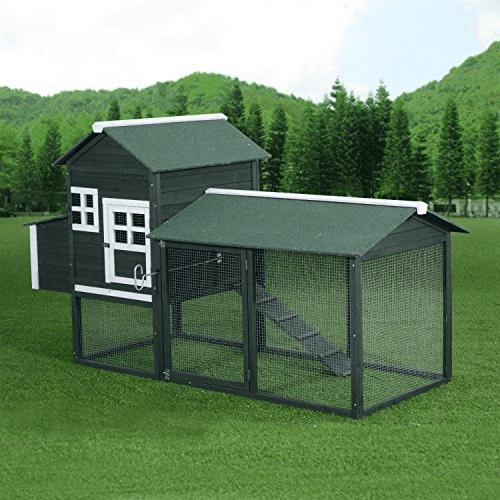 If you're looking for great quality, a sleek design, and an easy-to-maintain coop, you can't go wrong with the PawHut Wooden Coop. It's high-grade fir wood painted in forest green truly makes it stand out from the usual designs you may find. It has a large outdoor run that allows your flock to roam safely within the enclosure. It is easy to access and clean with various openings, a wide nesting box, and even a removable waste tray system. These large chicken coops are quite spacious that it can accommodate 4 to 6 large hens or 6 to 7 smaller breeds. With all the features and size, you are definitely getting your money's worth.
wp-block-column
Omitree Chicken Coop
Size: 9.6ft (l) x 2.5ft (w) x 2.6ft (h)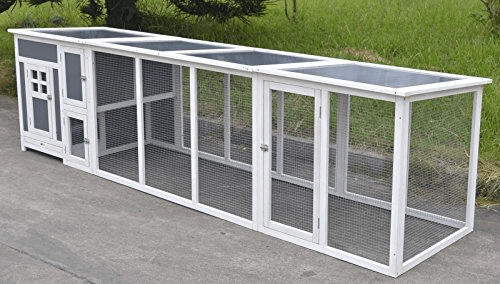 If you are looking for a more spacious coop for your hens to roam in, the Omitree Chicken Coop is the most ideal for you. This coop is equipped with three living spaces which include a nesting area, a sleeping room, and a large outdoor space. The coop is made with durable wood and zinc wire mesh to keep predators out. With the coop's open design, good ventilation would be the least of your worries, ensuring the good health of your hens. These large chicken coop kits are super easy to assemble, you don't need to be an expert which makes them some of the best chicken coop kits to buy online Simple and efficient -- best describes this coop.
At the end of the day, the best large chicken coops will always be; the ones that fit your budget, serve their function well, and keep your flock happy and safe. With this list, you can easily narrow your choices and decide on which coop to order.
---